Indoor climbing in Chamonix - Les Houches
Come and enjoy indoor climbing in Chamonix – Les Houches. A unique gym in the heart of the Mont Blanc massif with 100 routes ranging from 4 to 8b for the pleasure of all. Enjoy 75 big routes as well as a bouldering area. Every month, about fifteen new tracks are made in order to renew the room continuously. Come climb and train in the Mont Blanc Escalade in a friendly atmosphere.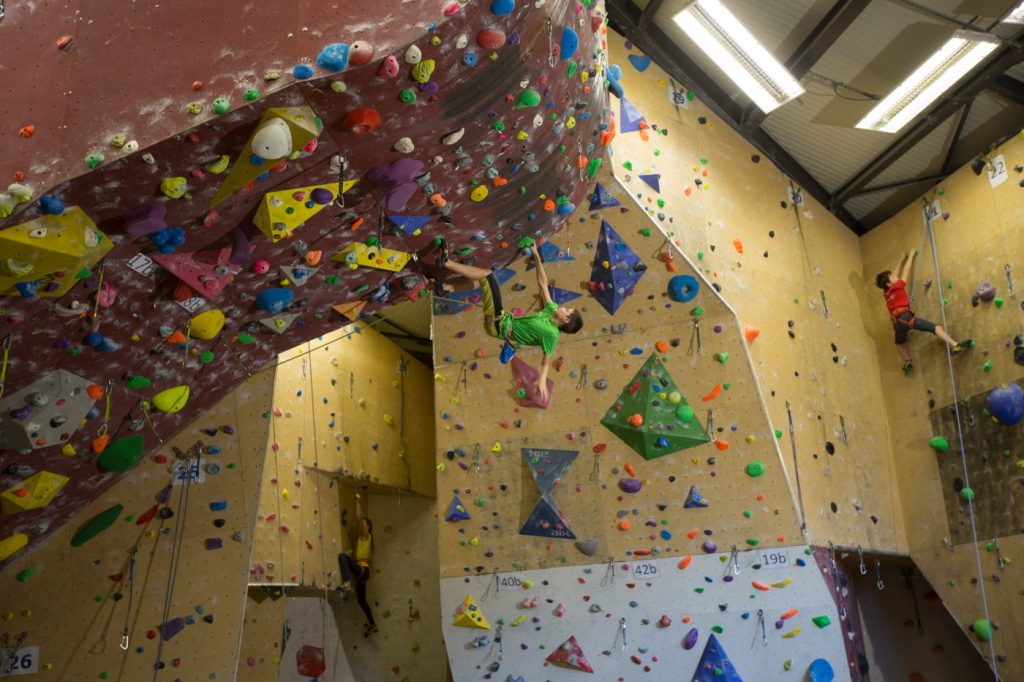 Getting ready for summer
Coming to practice climbing in Chamonix – Les Houches, it's the possibility to climb all year round in the Mont Blanc massif. For experienced climbers, guides and mountain lovers, you can train throughout the winter in the gym to be ready for the spring and summer. You will then be able to progress technically and physically in order to climb the outdoor routes of the Mont Blanc massif. You have the choice to train with the 100 routes including the 75 big routes proposed by Mont Blanc Escalade as well as the bouldering area.
The Chamonix valley offers an incredible number of routes in climbing, mixed climbing, alpinism and others. The levels of difficulty vary and allow everyone to engage in its physical and technical level. The climbing gym of Chamonix – Les Houches "Mont Blanc Escalade", allows you to maintain yourself, to progress during all the winter in order to be ready during the beautiful days. But it is also ideal for beginners who want to learn and be ready to discover outdoor routes in the summer after having had a preparation in the winter. With or without the gym's coaches, come climb and challenge the walls of the gym.
Climbing on bad weather days
During the outdoor climbing season in and around Chamonix, the weather can sometimes force you not to go out. If you had planned an outdoor outing and the weather is not favorable, then the climbing gym in Chamonix – Les Houches is the fallback solution. You can then spend the day in the gym climbing with or without a mountain guide.
A climbing gym for everyone
The climbing gym is open to everyone all year round. You can take private or group lessons, for children or adults, for leisure or competition. A climbing gym inspired by the mountains that surround it and that renews itself for more pleasure and novelty. Welcomed by a team of passionate people, each member of the staff will be there to advise and help you. Take advantage of its bar and restaurant area to regain your strength or have a drink in the room.